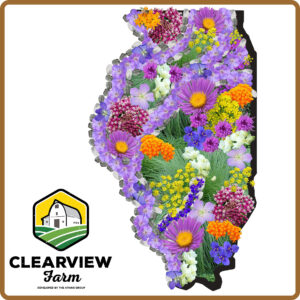 Clearview Farm is thrilled to announce the start of an exciting journey – constructing our new Illinois-shaped native pollinator rain garden.
A shape and size to dazzle:
Clearview Farm's pollinator garden is Illinois-shaped and will occupy around 5,500 square feet of garden space. The garden also features winding river rock channels that will mirror the river routes of Illinois as they carry water throughout the living landscape.
Native plants shine:
The garden will showcase a vibrant array of native plants. Almost 1,000 plants of over 20 different species will make up this masterpiece, specially designed to attract pollinators like bees and butterflies.
Learning and community:
Clearview Farm's pollinator garden will be a welcoming place for the community to visit, enjoy, and learn about plants and pollinators native to Illinois. The garden's convenient location is on Olympian Drive in northwest Champaign.
Even before construction, the garden is already impacting education. Members of Mahomet-Seymour FFA and Mahomet-Seymour High School's agriculture courses are learning by doing. These groups are learning about pollinator plants as they grow and care for the plants for Clearview Farm's Garden.
Construction:
Construction is underway! Follow along– We will post regular updates and progress pictures here! ⬇️
FAQs
May 2023: Plants arrive!
Almost 1,000 pollinator plants arrived via mail. The plans came in tiny plant plugs (small seedlings). Then, Mahomet-Seymour High School's horticulture students transplanted them into larger pots.
Summer 2023: Caring for Plants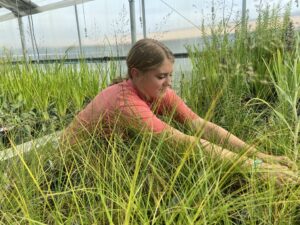 Addie Lagacy, a Mahomet-Seymour FFA member, cared for the pollinator plants all summer. In her care, they grew from tiny seedlings to a mature size that fills a gallon-sized pot.
August 22nd, 2023: Taking Shape (literally)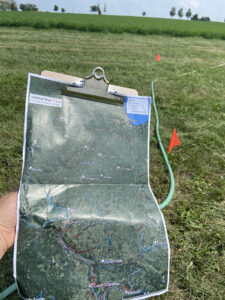 Clearview Farm managers marked the 55'x120' state of Illinois shape that will be the pollinator garden. Using measurements of Illinois, converting them to a scale, and measuring with a tape measure, a garden hose intially marked the garden's borders. The garden hose's flexibility allowed the shape to mimic Illinois' curvy borders and to make shape adjustments before semi-permanently marking out the shape with paint.
August 24th, 2023: Breaking Ground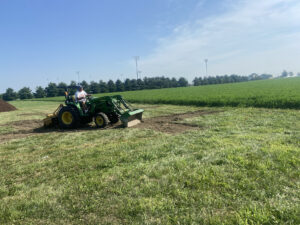 Construction officially begins on shaping, grading, and preparing the site for planting. Sunset Landscaping and Trees is the contractor executing this portion of the project.
River channels are first on the list for completion!
August 28th: River Construction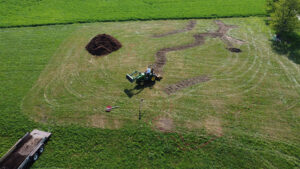 First on the list for construction– rivers! The rivers, which mirror Illinois' various river routes, are dug-out channels that will facilitate water movement throughout the garden. The river channels will also contain rock to serve a second purpose as visitor walking paths.
August 29th: Site Complete! Awaiting planting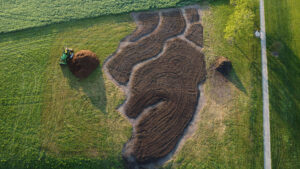 The shape and site are complete, aside from additional detail along Illinois' southeastern border to add during planting.
While difficult to see in an aerial photo, the garden slopes with higher elevation in northern Illinois and lower elevation in southern Illinois. This elevation change is critical in accommodating many species of native plants and their various acclimations.
In the garden, plants acclimated to dryland environments will inhabit northern Illinois portions of the shape, also at the upper end of the garden's slope. Contrarily, wet-land-type native plants will thrive in Southern Illinois, benefiting from water draining out of the dryland northern regions.
September 13th, 2023: Planting Day!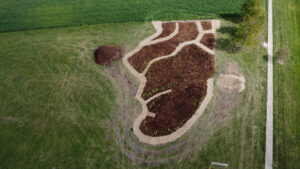 Volunteers gathered in the garden to execute planting, mulching, and installing rock in the river channels. Around 40 volunteers accomplished this task in a little less than 5 hours.
We're grateful for the support of our volunteer groups.
Mahomet-Seymour FFA
Nutrien
Precision Agronomics
Champaign County Farm Bureau Foundation
Master Gardeners & Master Naturalists
Our volunteers contributions turned this area of land into a space for the community to enjoy for many years to come– Thank you!
Latest Pollenator Garden Blog Posts
The Power of Community: Illinois-Shaped Pollinator Garden Planting
(September 28, 2023)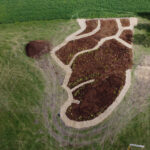 Clearview Farm's Illinois-shaped native pollinator garden is a garden project showcasing native plants, which are beneficial to pollinators. This unique site consists of almost 1,000 native plants throughout 5,500 square feet of garden space. These specially selected native plants support pollinators, and their curation provides pollinators with blooms during the entire growing season. The garden also features river rock channels mirroring Illinois' river routes that carry water throughout the garden's regions.
---
Pollinator Garden coming to Clearview Farm
(July 10, 2023)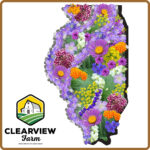 Coming to Clearview Farm in Fall 2023… a Native Pollinator Garden shaped like the heartland we call home, Illinois! With over 900 plants comprised of 20+ native species, this garden is a pollinator's dream come true. Winding river rock channels will mirror the river routes of Illinois as they carry water throughout this living Illinois landscape.
---
---
---